Congratulations!
You're one of the 2023
UK's Best Workplaces in Tech™
Let's go over some important details and the best ways to make the most of your great achievement.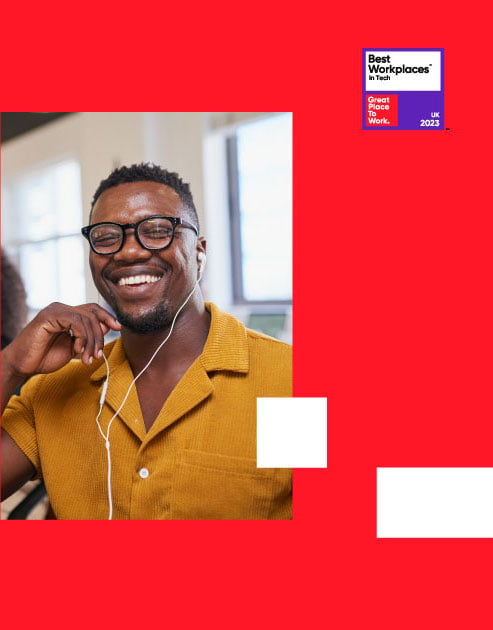 Tuesday, Sept 5 2023 | 10:00 a.m. BST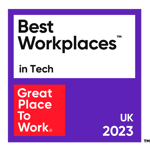 PROMOTIONAL ASSETS
Here's your toolkit 🎉
Please use the provided downloads and links to prepare for your list promotions.
Leverage Your Social Channels
USE HASHTAGS AND TAG US

#UKBestWorkplaces #GPTWcertified
Social platforms are a great way to communicate your recognition as a 2023 UK's Best Workplace in Tech™, increasing your online exposure, employee advocacy and helping you attract top talent.
Promote across your social channels, tag Great Place to Work's handles, and use hashtags to boost the visibility of your posts. We're here to help you amplify your voice.
Need help writing your post? Check below for some sample messaging to inspire you.
Examples from previous sector lists:
Just announced! We're on the 2023 #UKBestWorkplaces in Tech list! [link to list]
Thank you [your organisation's name] employees for helping us to build a great workplace FOR ALL! [link to blog post or media article]

#UKBestWorkplaces
We've made it onto this year's

#UKBestWorkplaces in Tech list.

Here's what employees had to say: [link to video]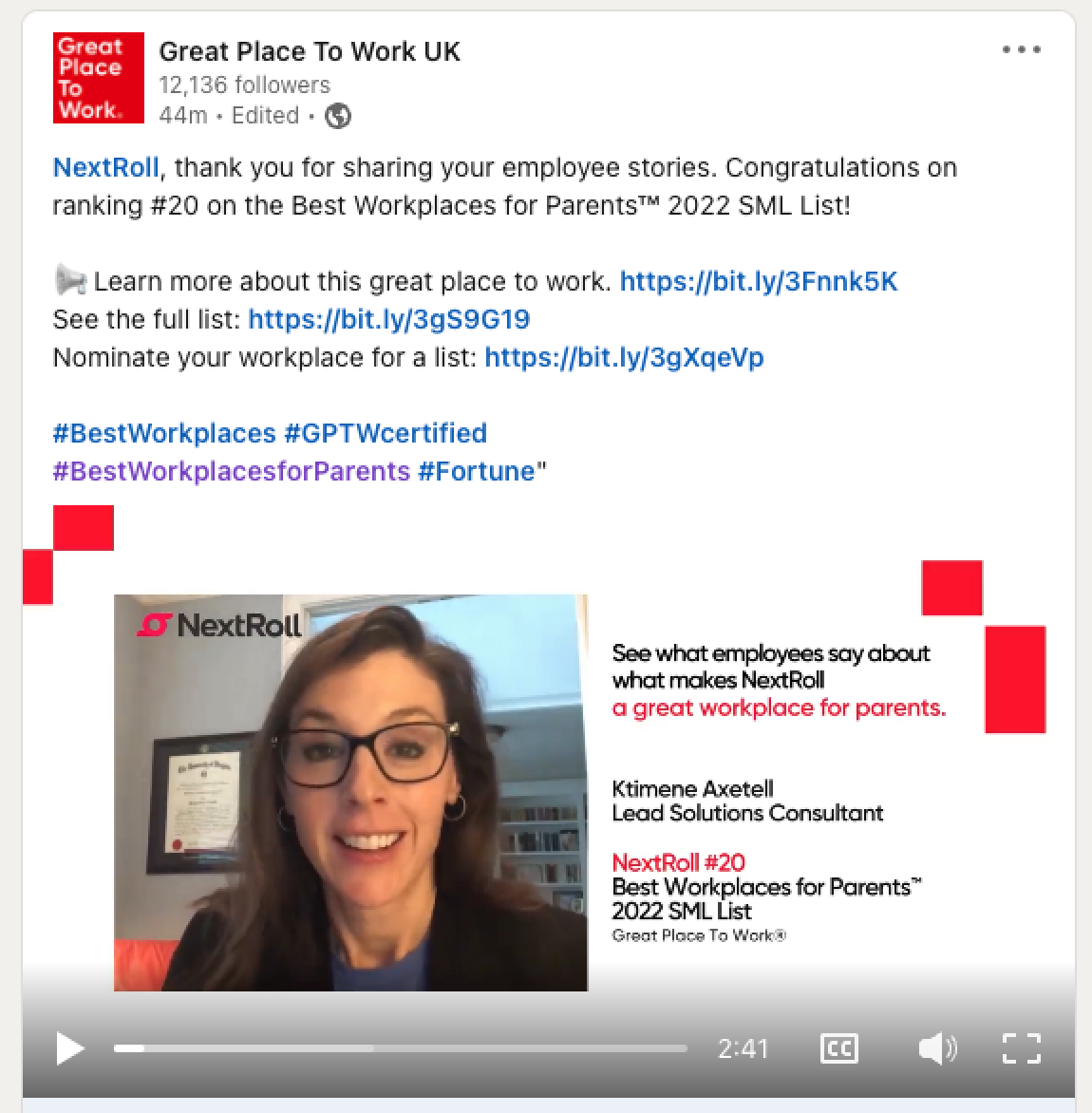 Be featured on social media!
Submit a 30 second video answering: What makes your workplace a fun place to work?
Videos must be submitted by 25th August 2023 to be featured.
Methodology
Globally, our Best Workplaces™ survey is the largest survey of workplace cultures and people practices. The methodology that creates our various Best Workplaces Lists is one of the most rigorous and highly sought after – and regarded as the 'gold standard' of employer awards.
Employees responded to over 60 survey questions describing the extent to which their organisation creates a Great Place to Work For All™. Eighty-five percent of the evaluation is based on what employees say about their experiences of trust and reaching their full human potential as part of their organisation, no matter who they are or what they do. Great Place to Work® analysed these experiences relative to each organisation's size, workforce makeup, and what's typical relative to their industry peers. The remaining 15% is based on an assessment of all employees' daily experiences of innovation, the company's values, and the effectiveness of their leaders, to ensure a consistent employee experience across departments and seniority levels.
The following criteria must be met for consideration as a UK's Best Workplace in Tech™:
Eligibility Criteria
✓ Minimum of 10 UK-based employees
✓ Industry specified on Culture Brief™ aligns to industry categories published
✓ Must be Certified™ and meet the minimum Trust Index™ threshold of 65%
Size Categories & Number of Organisations
Small & Medium: 100
Large & Super Large: 60
* We expect your organisation will be listed, but sometimes things happen. Everyone is a finalist until the list is published on 5 September 2023 at 10:00am BST.
† Your finalist status is strictly embargoed and confidential. You may not alert any press, conduct any media efforts or use the logo in any promotional material (including on social media) until the embargo is lifted on 5 Sept 2023 at 10:00am BST. Additionally, we ask that you please do not share this news with any external partners until after the embargo is lifted. The final list will be published at: https://www.greatplacetowork.co.uk